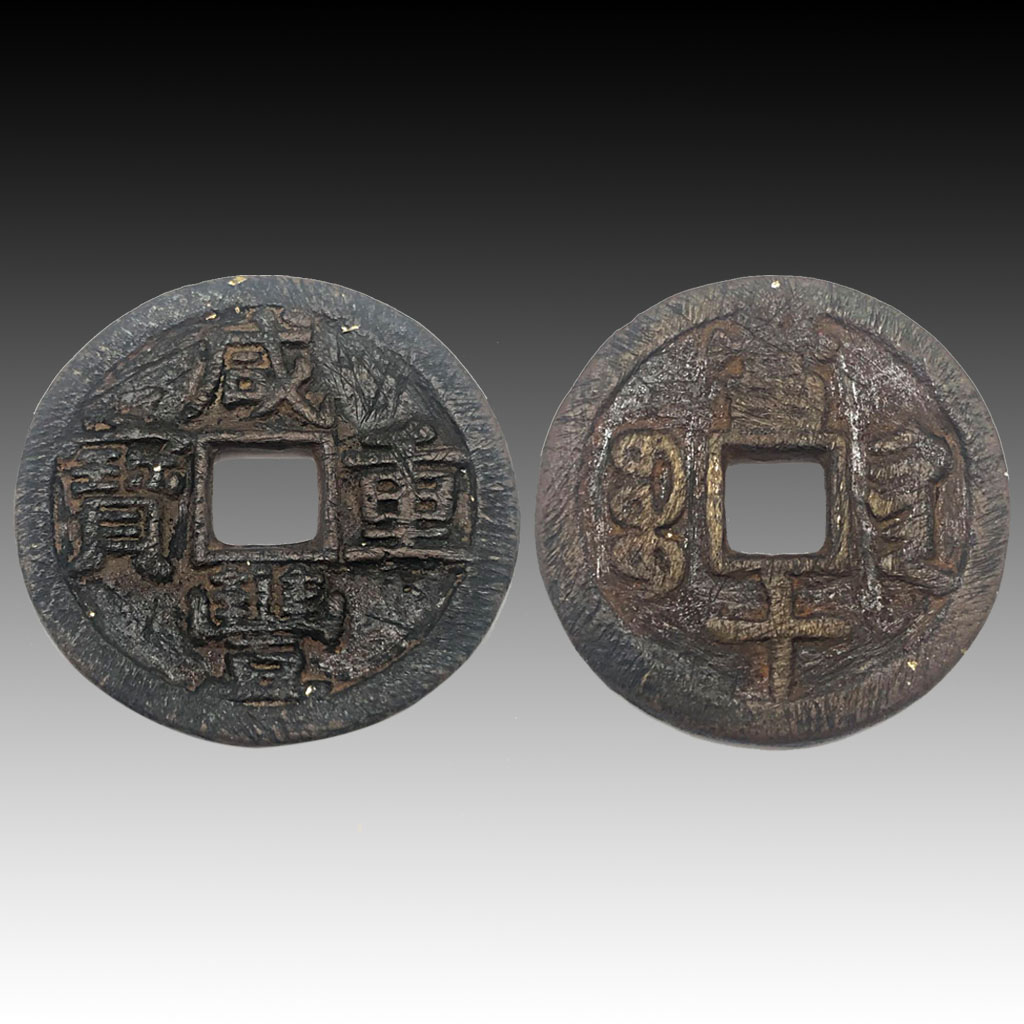 咸丰重宝是一种铜钱,直径38mm,重量约16g。此种铜钱币十分精美,字迹清晰深俊,铜材优良,钱文精美,没一丝一毫拖泥带水,比同版流通的钱稍大些、厚重些。
Xianfeng heavy treasure is a copper money, diameter 38 mm, weight 16 g.. This kind of copper coin is very exquisite, the handwriting is clear and deep handsome, the copper material is fine, the money is exquisite, does not have a dime of muddy water, is slightly bigger than the same edition circulation money, thicker.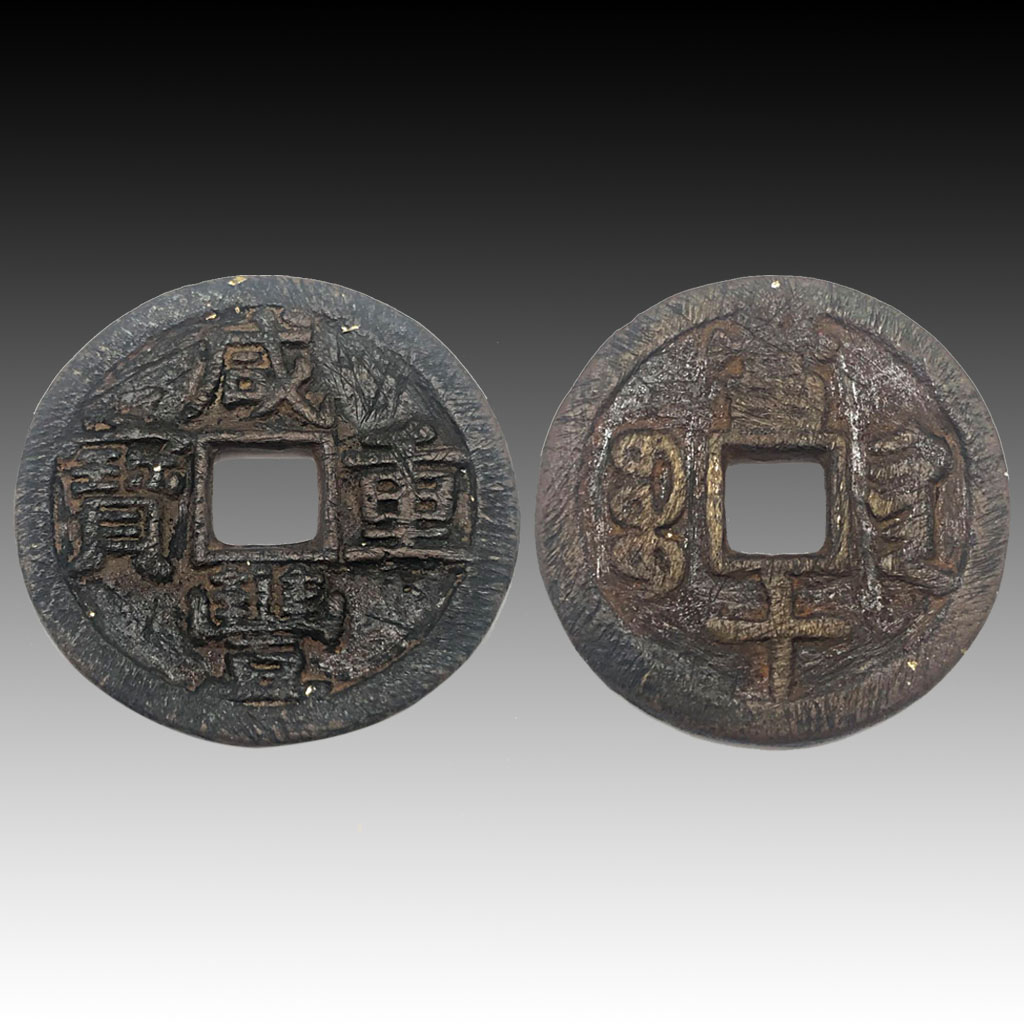 咸丰重宝当十/直径38mm,重量:约16g
Ten/diameter 38 mm, Weight: about 16 g
咸丰年间正值太平天国革命运动的高潮时期。此时民怨沸腾,清政府财政拮据,国库亏空.在钱币铸造上大做文章,将财政危机转嫁到老百姓身上。相继铸造"咸丰通宝"、"咸丰重宝"、"咸丰元宝"等种类繁多的钱币.咸丰元年首铸"咸丰通宝"制钱。由于太平天国革命运动的发生,和鸦片战争的爆发.钱局铸造制钱已很难正常进行,很多省的钱局实际上处于停铸状态,即使开铸,也是偷工减料。因而造成咸丰通宝制钱精品少,而粗制滥造的多,大都质劣而轻小,或以铁钱、铅钱代替铜钱。咸丰元年时,规定钱重一钱二分,到咸丰二年,变为一钱,但各铸行所铸造的制钱大多轻于规定重量。"咸丰通宝"面文大多书写楷书,背文满文局名有:宝源、宝泉、宝河、宝德、宝东、宝伊、宝济、宝晋、宝陕、宝巩、宝苏、宝浙、宝昌、宝福、宝台、宝武、宝南、宝广、宝桂、宝川、宝云阿克苏、宝黔等二十四个钱局。其中宝台、宝德、宝广、阿克苏等局数量极少。
Xianfeng was the climax of the Taiping Heavenly Kingdom Revolution. At this time the people boil, Qing government financial constraints, treasury deficit. On the coin casting, the financial crisis passed on to the common people. One after another cast "Xianfeng Tongbao "," Xianfeng heavy treasure "," Xianfeng Yuanbao" and other kinds of coins. Xianfeng first cast "Xianfeng Tongbao" money. as a result of the Taiping Heavenly Kingdom revolutionary movement, and the outbreak of the Opium War. Money Bureau casting money has been very difficult to carry out normally, many provincial money bureau is actually in the state of stop casting, even open casting, is also jerry-building. As a result, Xianfeng Tongbao made less fine money, and more shoddy, mostly poor quality and small, or iron money, lead money instead of copper money. In the first year of Xianfeng, it was stipulated that the money would weigh one and two cents, and in the second year of Xianfeng, it became one money, but most of the money made by each casting bank was lighter than the prescribed weight. Most of the "Xianfeng Tongbao" writing regular script, back text Manwen Bureau names are: Baoyuan, Baoquan, Baohe, Baode, Baodong, Baoyi, Baoji, Baojin, Baoshan, Baogong, Bao Su, Baozhe, Baochang, Baofu, Baotai, Baowu, Baonan, Baoguang, Baogui, Baochuan, Baoyun Aksu, Baobao and other twenty-four money bureau. Among them Baotai, Baode, Baoguang, Aksu and so on the number of very few.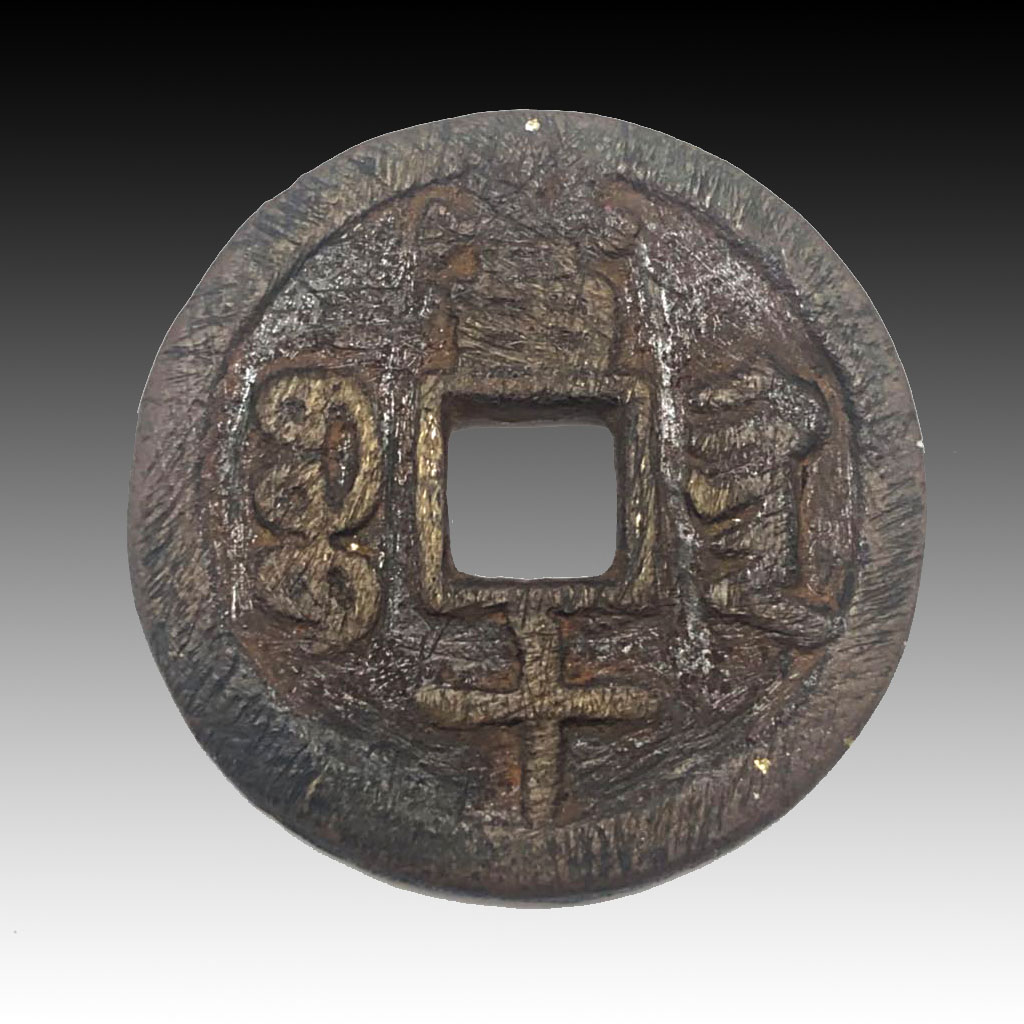 咸丰重宝当十/直径38mm,重量:约16g
Ten/diameter 38 mm, Weight: about 16 g
此后各地太平军连捷,加上鸦片战争的影响.清军政府军费开支大增,而各项税收大减,导致财政拮据,国库亏空.为了筹款镇压太平军,缓解财政危机,清政府被迫于咸丰三年(公元1853年)开铸大钱。下面一段话引自《大钱图录》咸丰三年,军务日滋,清饷不能继,寿阳相国权户部议,请铸当十大钱,兼增铁冶以供度支。旋推及当五十,当百钱。巡防王大臣续请铸当五百,当千两种。"从这段话上看说明咸丰大钱是在迫不得已的情况下开铸的。"咸丰重宝"始铸当十大钱,继而又开铸当五十、当百和当百以上,并令全国各省迅速铸造推行。"咸丰重宝"铸行情况十分混乱复杂,当值等次,大小轻重,铸造材质,铸造工艺,文字书体,钱文等,在各局甚至在同一局监内铸造时,都差异很大,以至有当值大小和钱体大小轻重倒置的,此外还有铁钱和铅钱。为了能迅速推行大钱,咸丰铸钱局数量上比前朝又有增加,在原有宝源、宝泉和各省钱局外,又设立热河宝德局,江苏宝苏局再设清江浦分局,新疆喀什局,还准许克勤郡王,设立捐铜局专铸大钱,已停铸的钱局纷纷恢复铸行。咸丰大钱的当值有多种。"咸丰重宝"当十钱的铸行最普遍,各开铸大钱的钱局都有铸行,铸造量颇丰。其次是当五十,当百大钱,当五百,当千仅有宝泉局、宝源局、宝巩局、宝陕局、宝河局和克勤郡王等铸过。除上述几种当值外,还曾铸过当五、当二十、当四十到当四百等大钱。宝文当十,当五十大多用"重宝",当百以上用"元宝"。但也有钱局用"通宝"重宝,或兼用几种宝文。咸丰大钱的钱文书法,各局自成体系,差异明显。
Since then, the Taiping army has succeeded, plus the influence of the Opium War. The military expenditure of the Qing army government increased greatly, and the tax revenue decreased greatly, resulting in financial constraints and treasury deficit. In order to raise funds to suppress the Taiping Army and ease the financial crisis, the Qing government was forced to make big money in Xianfeng three years (AD 1853). The following passage is quoted from Xianfeng three years, military service day, pay can not be followed, Shouyang phase of the Ministry of National Rights, please cast as the top ten money, and increase iron smelting to provide support. Push and when fifty, when hundred. The king's minister continued to ask him to cast five hundred, two thousand. From this point of view shows that Xianfeng big money is forced to cast under the circumstances. "Xianfeng heavy treasure" was first cast as the top ten money, and then opened to cast as 50, when 100 and more than 100, and made the national provinces quickly cast to implement. "Xianfeng heavy treasure" casting situation is very chaotic and complex, on duty, size, casting materials, casting technology, text books, Qian Wen, etc., in each bureau even in the same board casting, are very different, so that the size of the duty and the size of the money upside down, in addition to iron money and lead money. In order to carry out the big money quickly, the number of Xianfeng cast money bureau has increased again compared with the previous period. Outside the original Baoyuan, Baoquan and provincial money bureau, another hot river Baode bureau was set up, Jiangsu Jiangsu Baosu bureau has set up Qingjiangpu sub-bureau, Xinjiang Kashi bureau, also allowed Keqin county king, set up a copper donation bureau to make big money, has been suspended cast money bureau has resumed casting. There are a variety of Xianfeng big money on duty. "Xianfeng heavy treasure" when ten money casting line is the most common, each open casting large money bureau has casting line, casting amount is quite abundant. The second is when fifty, when hundred dollars, when five hundred, when thousands only Baoquan Bureau, Baoyuan Bureau, Baogong Bureau, Baoshan Bureau, Baohe Bureau and Keqin County King cast. In addition to the above-mentioned duty stations, great money was cast as five, twenty and forty to four hundred. Bao Wen when ten, when 50 most use "heavy treasure ", when more than 100 use" Yuan Bao ". But also have money bureau uses "Tong Bao" heavy treasure, or use several kinds of treasure article concurrently. Xianfeng big money Qian Wen calligraphy, each bureau self-system, the difference is obvious.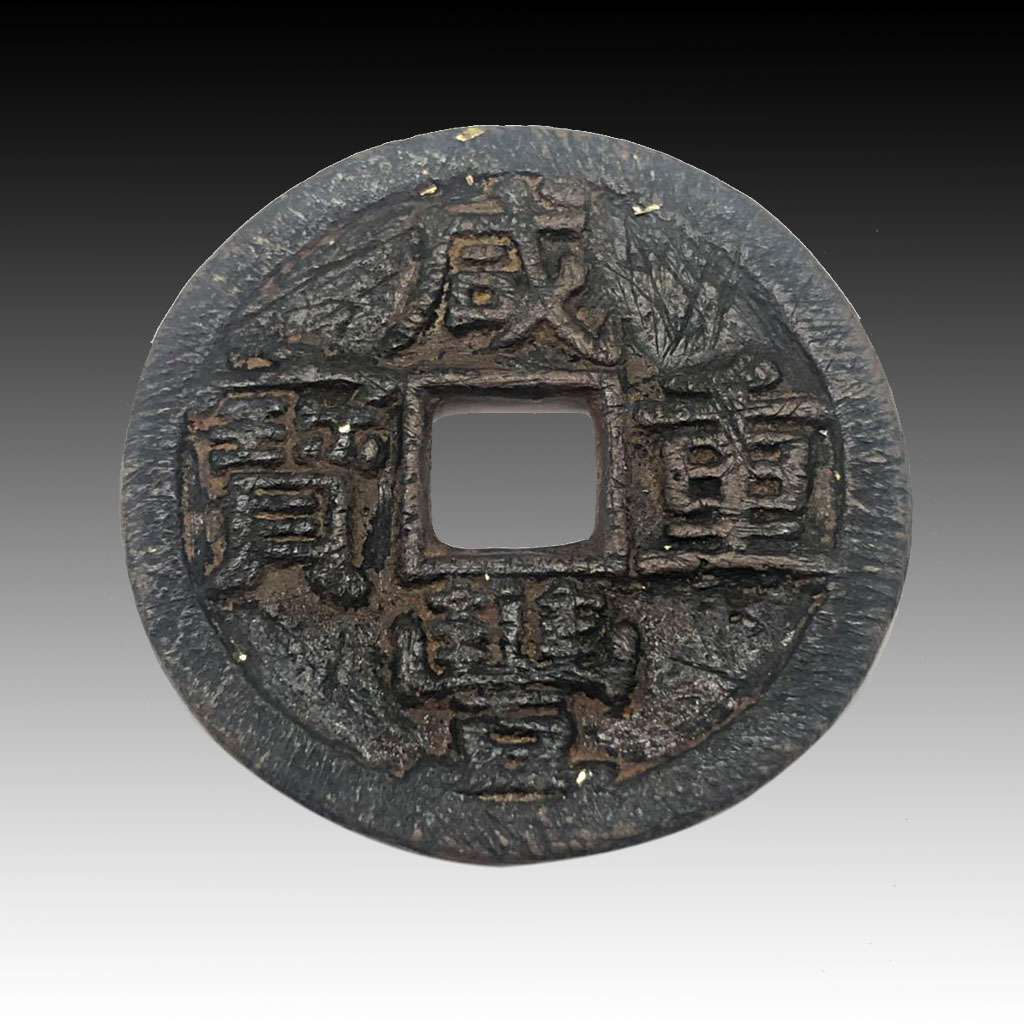 咸丰重宝当十/直径38mm,重量:约16g
Ten/diameter 38 mm, Weight: about 16 g
宝泉局自咸丰三年五月起先铸当十大钱,八月又铸当五十大钱,十月增铸当百、当五百、当千大钱。宝泉局咸丰大钱版本较多,书体变化较复杂,币材有红铜、黄铜、铁、铅等。宝源局自咸丰三年八月始铸当十大钱,十月开铸当五十大钱,十一月又铸当百,当千等,大钱币材用水红铜、黄铜、铁、铅等,版本、书体变化多,大小轻重差异较大。
Baoquan Bureau since May of three years Xianfeng first cast as the top ten money, August cast as the top fifty money, October cast as a hundred, when 500, when a thousand dollars. Baoquan bureau Xianfeng big money version is more, the book body changes more complex, the coin material has red copper, brass, iron, lead and so on. Baoyuan Bureau since Xianfeng three years in August as the top 10 money, October as the top 50, November as a hundred, when thousands, large coins for water red copper, brass, iron, lead, and so on, version, book changes, the size of the big difference.
藏品放于泉州闽古通今,可议价交易,本公司承诺购买此藏品珍贵且稀有,流通量极少,有收藏投资价值、市场价值、文化价值,升值空间较大。
咨询热线:0595-8207 5752
公众号:闽古通今
官方网站:http://mingutongjin.com/
The collection of this group isplaced inQuanzhou, Fujian, and can be negotiated and traded. The company iscommitted tothe purchase of this collection of precious and rare, with verylittlecirculation. It has the value of collection, the value of the market,the valueof the market, the value of the culture, and the great value oftheappreciation.
Hotline:0595-8207 5752
Public No.: Mingutongjin,
Mina Officialwebsite:http://mingutongjin.com